About Us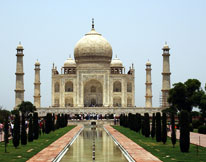 Centre for Indian Studies of Shenzhen University
Centre for Indian Studies (CIS) of Shenzhen University was established in July, 2005. CIS was awarded a Certificate of Merit for its achievements of international exchanges by Shenzhen University in May, 2011 and granted as the Key Research Institute of Humanities and Social Science of Shenzhen University in Dec, 2011. Since 1984, Shenzhen University has maintained its tradition to support the Indian studies. Many relevant courses has been set up, e.g. Indian Literature, Comparative Studies of Chinese and Indian Literature, Comparative Studies of Chinese and Indian Poetics, History of Indian Culture, Present Analysis of Manu-smirti, Appreciation of Indian Movies, An Introduction to Indian Culture, etc. Indian Classic Works and Chinese Classics: Indian Writers and Chinese Culture and Chinese and Indian Poetics: a comparative study, as two of important achievements made by the CIS members, respectively won the prize at the ministerial level and provincial level.
As early as in April, 1996, Shenzhen University hosted "The 13th International Conference on Ramayana". In March, 2002, Shenzhen University hosted "The 9th Seminar on the Indian Literature". Since its establishment in 2005, CIS has hosted many academic activities, including "Year of Sino-Indian Friendship, 2006 ·Festival of India, Shenzhen University" in Oct, 2006, "International Seminar on Sino-Indian Relations" in April, 2007 and "Inauguration of Tan Yunshan Sino-Indian Friendship Museum" in Nov, 2008, jointly hosted "The First China-South Asia Forum and International Academic Seminar on the 100th Birthday of Prof. Tan Yunshan and Prof. P. C. Bagchi" in Beijing in Dec, 2008 and "The 2nd China-South Asia Cultural Forum" in New Delhi in Dec, 2009 and jointly organized an exhibition on Tagore's Paintings, "Tagore: Romance of Travel" in Nov, 2011.
CIS has received many Indian celebrities and world famous scholars of Indian studies, including Prof. G. K. Chadha (the Economic Adviser of the Prime Minister of India and the former Vice-chancellor of Jawaharlal Nehru University), three Indian Ambassadors to China, Mr. Shiv Shankar Menon, Ms. Nirupama Rao and Dr. S. Jaishankar, Mr. Karan Singh (Chairman of the Indian Council for Cultural Relations "ICCR"), Mr. Suresh K. Goel (Director of ICCR), Prof. Satya Vrat Shastri (Indian distinguished Sanskritist), Tan Chung, Mr. Michel Postel and Dr. Zhu Xintian. CIS has also successively received four ICCR Chair Professors, Mr. Priyadarsi Mukherji, Mr. Soumyendranath Sikdar, Ms. Shubra Thripathi and Ms. Nirmala Sharma.
On July 15, 2010, the Indian President, Ms. Pratibha Devisingh Patil wrote a Message of Congratulation to Prof. Yu Longyu to praise and encourage his contribution to organize the publications of Appreciation Dictionary of Gurudev Rabindranath Tagore's Works and The Complete Works of Gurudev Rabindranath Tagore.
On June 12, 2012, CIS facilitated the renewal and signing of the Memorandum of Understanding Made and Entered into by and between Indian Council for Cultural Relations and Shenzhen University on the Establishment of the ICCR Chair of Humanities & Social Sciences.
At present, CIS members are undertaking two major projects funded by National Social Science Foundation. CIS is planning to publish the Series of Chinese and Indian Studies and also non-periodically releases the Newsletters of Indian Studies, Shenzhen University for internal exchanges.