About Us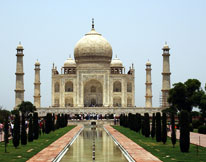 2011
Add time:2012-09-05 Source: Browse the number:1947

On Nov. 8, 2011, the exhibition of Rabindranath Tagore's paintings, "Tagore: Romance of Travel" jointly hosted by Indian Council for Cultural Relations (ICCR), Consulate General of India, Guangzhou and Shenzhen University was inaugurated at No. 3 Art Gallary of SZU. Mr. Indra Mani Pandey, the Consul General of India in Guangzhou, Prof. Zhang Bigong, the president of SZU, Prof. Li Fengliang, the Vice-president of SZU and Mr. Luo Liejie, the chairman of Shenzhen Federation of Literary and Art Circles attended the Inauguration Ceremony.

During Oct. 17, 2011-Jan. 20, 2012, Prof. Nirmala Sharma appointed by ICCR as the fourth ICCR Chair visited SZU for academic exchanges.

On Aug. 15, 2011, Prof. Yu Longyu, direct of CIS and Ms. Huang Rong were invited to attend the Celebration of the 64 anniversary of India's Independence Day in Guangzhou.

During May 8-22, 2011, at the invitation of Chinese People's Association for Friendship with Foreign Countries, Prof. Satya Vrat Shastri, Indian distinguished pandit, visited Peking University, Chinese Academy of Social Sciences and Shenzhen Unviersity at his 80s and delivered a lecture Sanskrit Studies in India and My Life as Pandit at SZU.

During Feb. 5-20, 2011, Prof. Yu Longyu was invited by ICCR to pay a visit to India. During his visit, Prof. Yu visited Jawaharlal Nehru University, University of Delhi, Sophia College for Women, University of Mumbai, Jadavpur University, Rabindra Bharati University, University of Calcutta and delivered speeches in Chinese and Hindi.